Personnel Access & Exit Doors
Security for your property by a reputable company in Dromore, Co. Down.
PERSONNEL ACCESS DOORS
BC Shutters & Doors Ltd offers an off the shelf solution to two main applications, namely fire rated escape door and security exit doors.
Our range is fully certificated for its relevant application and offers a cost effective solution at a very fast turnaround.
All doors can be powder coated to your desired colour.
Each door application offer two different dimensions for your convenience; 900w x 2100h and 1000w x 2100h.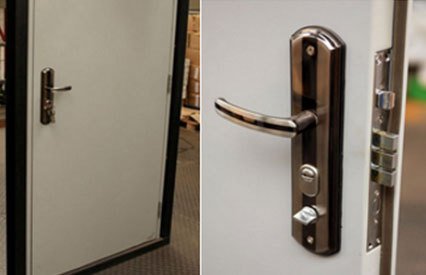 FIRE RATED ESCAPE DOOR
Our fire rated emergency doors comply with British Standard BS EN 1634-1:2000.
These doors have been tested, passed and certified by the Warrington Fire Global Safety Laboratory WF report No. 15280 achieving F240 or 4 hours Fire Prevention.
The doors and frames are manufactured from galvanised steel. There are two vertical steel reinforcements in the interior of the door to increase both strength and security.
All doors are insulated with Glass Wool Fibre in accordance with British Standards directives BS EN 1634-1:2000. Fire doors can be powder coated to your desired colour.
We offer an emergency call-out service and all of our work is guaranteed.
Call BC Shutters & Doors Ltd on
07803 931 374 or 028 9753 3560
SECURITY EXIT DOORS
Designed for situations where building security is of paramount importance, the combination of a 10-point locking system and interlocking anti jemmy studs, ensures a combined defence against forced entry. The internal door design features 6 locking points that are connected to steel bars which are interlinked mechanically to the master lock mechanism.
There are a total of 8 keys provided, 6 are sealed and for the customers' exclusive use – the other 2 are used by installers. Once the door is installed, the customers sealed keys will immediately change the combination of the lock preventing any further use of the two installer keys. This adds a further level of security.
The doors are insulated with glass wool in accordance with British Standard directives. Security doors can be powder coated to your desired colour.
To find out more get in touch with BC Shutters & Doors Ltd today.